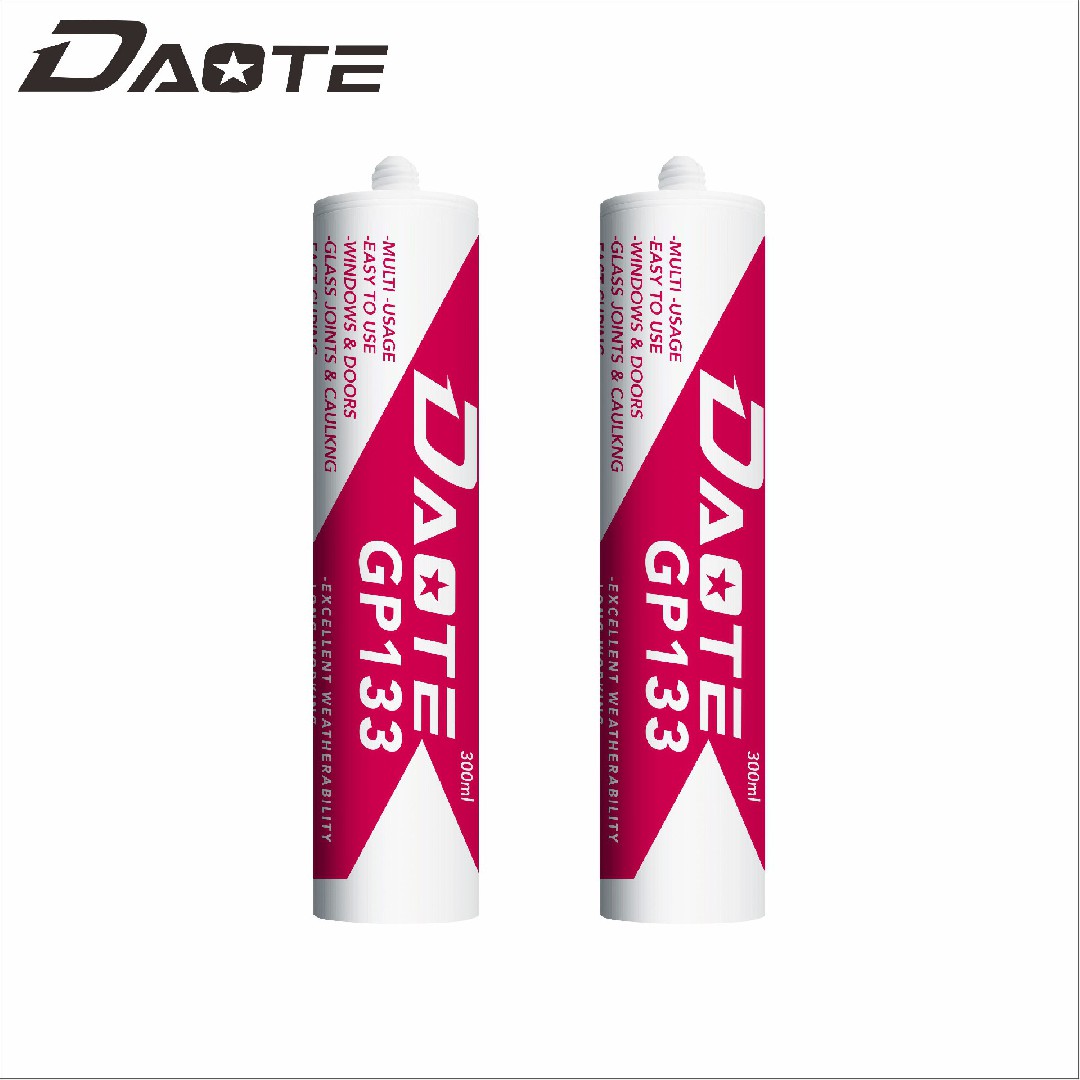 GP133 Adhesive Glue General Purpose Silicone Sealant
GP133 is an acid-curing, one-component silicone sealant for glass sealing and window frame adhesion. We also offer colour customizing services that match the colour of the window frame.
---
Zhaoqing Haohong New Material Co., Ltd (Haohong as below), established in 1993, is one of the leading bonding & sealing solution providers in China. We research, develop, manufacture, package, and distribute a wide range of high-quality adhesive and waterproofing products to cater for various market segments. Specially formulated for the professionals, our comprehensive range of adhesive, sealant and waterproofing products are the preferred solutions in the following categories:

- Hardware
- Construction & Building (Façade/Window/Door/Sanitary/Plumbing/Tiles/Ceramics)
- Waterproofing
- Electronic Appliance
- DIY Market
Item: General Purpose Silicone Sealant
Model: GP133
Brand Name: Daote
Curing System: Acetic Curing
Place of Origins: Zhaoqing City, Guangdong Province, China
Materials: Silicone
Shelf Life: 9 Months
Storage: Cool and dry storage place at a temperature below 27°C
Lead Time: 12 – 20 days
OEM or ODM: Available
Application: Sealing
Certificates: ISO9001 / MSDS / RoHS
Application Standard: (SR) GB/T14683-1-Gn-20LM
Shipment: Non-dangerous Carriage
---
Cautions:

- Apply to a clean and dry surface, free of dirt, wax, oil and grease.
- Apply with manual caulking or applicator gun.
- Remove excess sealant with a wet cloth.
- Can't be used the product, if the temperature is below 4°C or above 40°C on the surface of the material.
- It is necessary to make an on-site capacity and adhesive test before using.
- Avoid breathing too much vapour.
- Keep out of reach of children.
Cartridge: 230ml / 250ml / 260ml / 280ml / 300ml
Drum Package: 200L
20GP: 1800 Cartons with pallets; 1900 Cartons without Pallet
Which standard does GP133 Acetic Silicone Sealant meet?
The GP133 follows the standard of GB/T14683-2017 which is the high standard for weatherproof silicone sealant performance.
Why the requirement for Silicone Sealant is the strictest?
Reducing the possibility of break:
Usually, the sealing and caulking of various substrates. The quality of silicone sealant determines the life working of substrates directly. The sealant is yellowing resistance and durability. If the users used a sealant that does not conform to the standard, the possibility of redecoration will be higher.
The GB/T14683-2017 has ruled the tensile adhesion ability in different temperatures, UV light and immersion in water. In long term UV light and after immersion in water, it regulated the sealant's tensile adhesion ability must be larger than 0.4 MPa.
Long-life working:
The sealant is used for home decoration, industrial purposes, and so on. Thus, it is not possible to redecoration frequently. Thus, we must choose a quality silicone sealant, which decreases the possibility of refurbishment. The GB/T 14683-2017 has an anti-aging test, which ensures whether the sealant can be used for long working life. Reducing the possibility of refurbishment.
All Haohong's sealants conform to the standard of GB/T14683-2017. Thus, our technical staffs recommend users used the products which conform to the standards.
Acetoxy Silicone Sealant VS Neutral Silicone Sealant
Recently, the acetoxy cured and neutral cured silicone sealants have been widely used in the construction and decoration industry. But many users are still not clear about the difference between acetic curing and neutral curing.
Odour:
The smell of acetic silicone sealant is greater than the neutral silicone sealant.
Purposes:
The main purposes of acetic and neutral silicone sealants are different. Most building materials can be sealed by a neutral silicone sealant, and the sealant will not corrode the materials. Furthermore, the acetic silicone sealant is the most suitable for glass bonding. If we used the acid silicone sealant in metal, that may lead to corrosion of the materials, even change colour.
Curing Time:
The curing time of acetic silicone sealant is the fastest. The Tack-Free time is about 5 to 15 minutes, which is convenient for the construction process. Usually, the curing time of a neutral silicone sealant is slower than the acetic silicone sealant.
| | | |
| --- | --- | --- |
| NO. | Item | GP133 |
| 1 | Appearance | smooth paste without bubbles and particles |
| 2 | Available colour | Clear/White/Grey |
| 3 | Curing System | Acetoxy |
| 4 | Specific Gravity | 0.93-0.97 |
| 5 | Skin Time (mins) | 3~15 |
| 6 | Full Cure Time (days) | 1~2 |
| 7 | Tensile Strength (Mpa) | ≥0.40 |
| 8 | Ultimate Tensile Strength % | ≥120 |
| 9 | Hardness (Shore A) | 20~30 |
| 10 | Working Temperature(℃) | 4~40 |
| 11 | Extrusion Rate (ml/min) | 1500~2500 |
| 12 | Shelf life | 9 Months |
CONNECT US


Zhaoqing Haohong New Material Co., Ltd.
We are always providing our customers with reliable products and considerate services.
If you would like to keep touch with us directly, please go to contact us