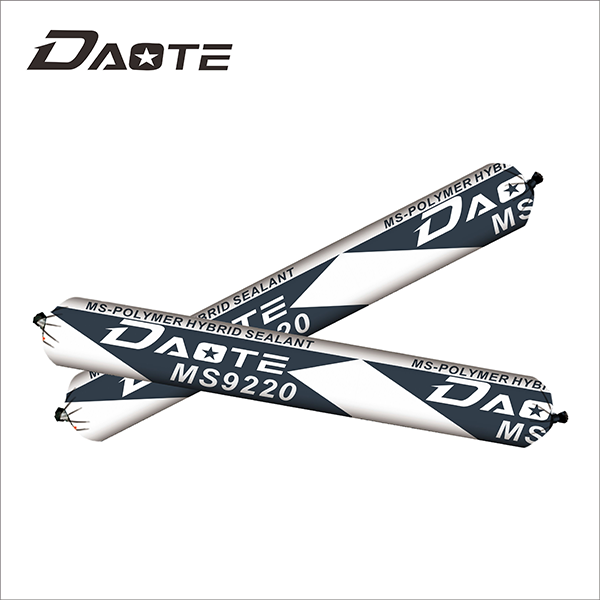 Multi Purpose MS9220 High Grade MS Polymer Hybrid Sealant
MS 9220 MS Polymer Sealer is a paintable sealant that overcomes silicone sealants' non-paintable characteristics. It has a similar consistency as silicone sealant, however, it does not include any solvent. It can be used for a variety of subtracts, including transportation (bonding of buses and cars), connecting panels and stone plates, waterproofing of windows frames, and air conditioning systems.
---
Zhaoqing Haohong New Material Co., Ltd (Haohong as below), established in 1993, is one of the leading bonding & sealing solution providers in China. We research, develop, manufacture, package, and distribute a wide range of high-quality adhesive and waterproofing products to cater for various market segments. Specially formulated for the professionals, our comprehensive range of adhesive, sealant and waterproofing products are the preferred solutions in the following categories:

- Hardware
- Construction & Building (Façade/Window/Door/Sanitary/Plumbing/Tiles/Ceramics)
- Waterproofing
- Electronic Appliance
- DIY Market
Model: MS9220
Brand Name: Daote
Place of Origins: Zhaoqing City, Guangdong Province, China
Shelf Life: 10 Months
Storage: Cool and dry storage place at a temperature below 27°C
Lead Time: 12 – 20 days
OEM or ODM: Available
Application: Sealing
Certificates: ISO9001 / MSDS / RoHS
Standard: JC/T 885-2016 & GB18583-2008
Shipment: Non-dangerous Carriage
Cautions:
- Ventilation should be maintained in the working environment.
- Apply with manual caulking or applicator gun.
- Remove excess sealant with a wet cloth.
- Can't be used the product, if the temperature is below 4°C or above 40°C on the surface of the Material.
- It is necessary to make an on-site capacity and adhesive test before using.
- Avoid breathing too much vapour.
- Keep out of reach of children.
- Avoid exposure to the sun and rain, knock and extrude package.
Sausage: 590ml
20GP:
1700 Cartons with pallets; 1800 Cartons without Pallet
CONNECT US


Zhaoqing Haohong New Material Co., Ltd.
We are always providing our customers with reliable products and considerate services.
If you would like to keep touch with us directly, please go to contact us